The Silent Scream: Political and Social Comment in Books by Artists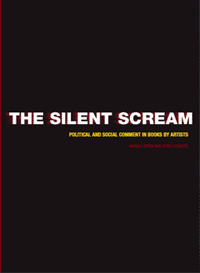 Catalogue commentaries and introduction by Monica Oppen and Peter Lyssiotis.
Preface by Sarah Bodman
Essays by Walter Struve (librarian State Library of Victoria), Dr Scott McQuire (Associate Professor and Reader, School of Culture and Communication, University of Melbourne), Humphrey McQueen (freelance historian) and Des Cowley (Rare Printed Collections Manager, State Library of Victoria).
ISBN: 9780987160607 (pbk.)
pp 190
Size 24.5 x 20.5 x 2.5 cm
Commentary
The Silent Scream: political and social comment in books by artists presents, not only a companion catalogue to an exhibition held at Monash University Rare Books, but also a journey through some of humanity's most inhumane and hypocritical moments. Reaching back to William Blake with a facsimile of his illuminated book America: A Prophecy then travelling through the two world wars and on to the modern era the catalogue provides insights into 77 influential books and works presented in book form.
Beginning with a preface by Sarah Bodman (Senior Research Fellow for Artists' Books, UWE), this catalogue presents phases of books by artists in 3 sections, Across Two World Wars 1918-1950, Cold War in a Nuclear Era: Alienation and Engagement 1960-1990, Imperialism, Fundamentalism, Democracy, Oil and its Shadow 1990 to the Present, with an additional category Along the Tangent, Books on the Edge for those works, which stand on the periphery of the blurred line defining 'artists books'.
The sections begin with essays by Walter Struve, Dr Scott McQuire, Humphrey McQueen and Des Cowley and serve to analyse each period's distinctive characteristics in which these books were created.
For the first time in Australia the work of Australian artists and writers working in the field of bookarts have been placed into a context with an international and historical perspective. Each book has been profiled with images and an accompanying commentary. Monica Oppen and Peter Lyssiotis, both practising artists, lend their unique perspective to the social content and the techniques behind the production of these books.
Also, five new translations into English, four from the German, including The War by Georg Heym from Umbra Vitae and the complete text of Die Neue Stadt by Josef Luitpold and Otto Schatz and one from the Russian, the poem City from Gorod Stihki by Alexandr Rubakin.
All books have been selected from the private collection Bibliotheca Librorum apud Artificem, Sydney Australia and the Rare Books at the Matheson Library, Monash University Melbourne, Australia. The publication of this catalogue is timely as interest in the field of bookarts both locally and internationally continues to grow.
Artist and Writers
William Blake (UK),
Norman Lindsay (AUS),
Nathalia Goncharova (Russia),
Alexandr Rubakin (Russia),
George Grosz (Germany),
Ernst Kirchner (Germany),
Georg Heym (Germany),
Lazar (El) Lissitsky (Russia),
Josef Luitpold (Austria),
Otto Schatz (Austria),
John Heartfield (Germany),
Max Beckmann (Germany),
Stephan Lackner (Germany),
Noel Counihan (AUS),
Klaus Staeck (Germany),
Ian Howard (AUS),
Glenn Clarke (AUS),
Peter Lyssiotis (AUS),
Paul Zelevansky (USA),
Michael Peven (USA),
Sonia Balassanian (USA/Armenian),
Jean Pinataro (USA),
James Casebere (USA),
Ted Hopkins (AUS),
Helen Malone (AUS),
Noreen Grahame (AUS),
Cerise Ward (AUS),
Brad Freeman (USA),
Gerhard Richter (Germany),
Robert Frank (CH),
Josley Carvahlo (Brazil),
Colin Matthes (USA),
Erik Ruin (USA),
Josh MacPhee (USA),
Nicolas Lampert (USA),
Richard Tipping (AUS),
Monica Oppen (AUS),
Tim Mosely (AUS),
Sarah Bowen (AUS),
Darren Bryant (AUS),
Liz Deckers (AUS),
Rebecckah Evans (AUS),
Louise Irving (AUS),
Jo Kambourian (AUS),
Noga Freiberg (AUS),
Susan Goddard (AUS),
Doug Spowart (AUS),
Glen Smith (AUS),
Theo Strasser (AUS),
Kirk Crawford-Watts (AUS),
Ross McMaster (AUS),
Anne Twigg (AUS),
Jas Duke (AUS),
Vivienne Méhes (AUS),
Gilles Peress (France),
Eric Stover (USA),
Robert Colvin (AUS),
Caren Florance (AUS),
Travis Paterson (AUS),
Telfer Stokes (UK)